ZŪØRP - Small Hand Puppet ✷PRE-ORDER✷
Regular price
$170.00 USD
Regular price
Sale price
$170.00 USD
Unit price
per
ZŪØRP is not from our planet, they're from the planet ÅͽӇ◊Â, where creatures have more than one brain and are the most intelligent in the universe. Since ZŪØRP's native language is different from ours, he comes with a Parasitic Translator (and an instruction manual on how to use it) to help you communicate with each other! 
Pronouns: They/Them/He/Him
Your puppet arrives with:

- A passport for your puppet
- An Adoption Certificate
- A "Personal Records" sheet to document your puppet's personality traits as you get to know them
- A "Puppet Parenting" guide explaining how to care for your puppet, along with puppeteering tips! 
MATERIALS USED:
Our puppets are made with a combination of organic and synthetic materials including but not limited to cotton, adhesives, wool, acrylic, polyester, modacrylic, EVA foam, wood, and feathers* (*which we are phasing out). Please consider this before purchasing if you have any skin sensitivities or allergies. 
✷PLEASE NOTE✷
- This is a PRE-ORDER! We do our best to make and ship your order in a timely manner, but cloning puppets it's a very tedious & delicate process. :) Please allow at least 4-6 weeks for the puppet to show up at your doorstep for US orders, and 6-8 weeks if you are shipping internationally.
- This is a handmade puppet, so each one will look slightly unique from others, especially if it has a colorful/patterned fur.  Sometimes certain materials may be discontinued or out of stock due to supply chain issues, but we do our best to make a replica of what's pictured!
 - Best for children ages 4+
Share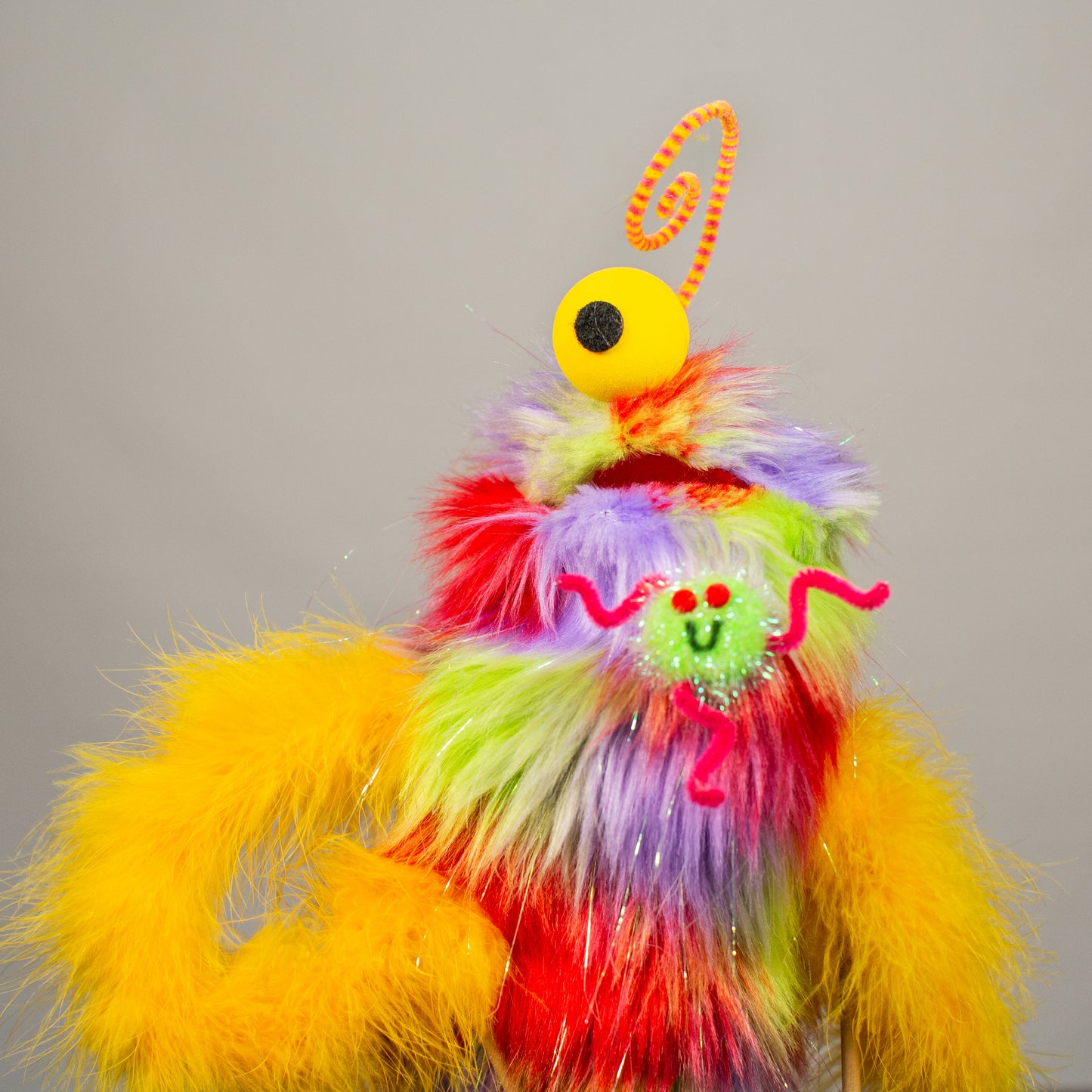 Great addition to our puppet family
Our Zuorp is super high quality and exactly as pictured. He is well-mannered and i good health, and a lovely addition to our puppet family. :)
The best puppet!
My daughter absolutely loves using the translator and takes her puppet everywhere with her!
Zuorp is so wonderful!
I love my little Zuorp puppet so much! He is amazingly soft and so well-made. R&G's attention to detail in the character, his accompanying paperwork, and packaging are just a delight. Thank you!
My New Child
ZŪØRP is such a handsome little puppet! I am so happy to have adopted him! He brings me back to fond memories of my childhood with puppets!
Going to be taking him to a lot of places! Thank you, guys, so much! <3
Zuorp Is Magical (And So Is Ragmop & Goose)
I couldn't be happier with Zuorp. They are so vibrant and magical in person! The special love and thought that goes into the creation of these puppets is unparalleled. The people at Ragmop & Goose are a delight to communicate with and genuinely care about their customers and puppets. What an incredible community to be a part of!