Filbert - Hand & Rod Puppet
Regular price
$160.00 USD
Regular price
Sale price
$160.00 USD
Unit price
per
Filbert is part of the Bert family! (Yes, they're a cousin of Eggbert!)

Filbert's main goal in life is to have fun! They're curious about everything and they love learning new things! Be prepared to explain EVERYTHING to them. (Literally EVERYTHING.) They're the perfect companion for any curious explorers of Earth!
Pronouns: They/Them
Your puppet arrives with:

- A passport for your puppet
- An Adoption Certificate
- A "Personal Records" sheet to document your puppet's personality traits as you get to know them
- A "Puppet Parenting" guide explaining how to care for your puppet, along with puppeteering tips! 
MATERIALS USED:
Our puppets are made with a combination of organic and synthetic materials including but not limited to cotton, adhesives, wool, acrylic, polyester, modacrylic, EVA foam, wood, and feathers* (*which we are phasing out). Please consider this before purchasing if you have any skin sensitivities or allergies. 
✷PLEASE NOTE✷
- Please allow 7-10 days for processing time before your puppet is on their way to you!
- This is a handmade puppet, so each one will look slightly unique from others, especially if it has a colorful/patterned fur.  Sometimes certain materials may be discontinued or out of stock due to supply chain issues, but we do our best to make a replica of what's pictured!

 - Best for children ages 4+
Share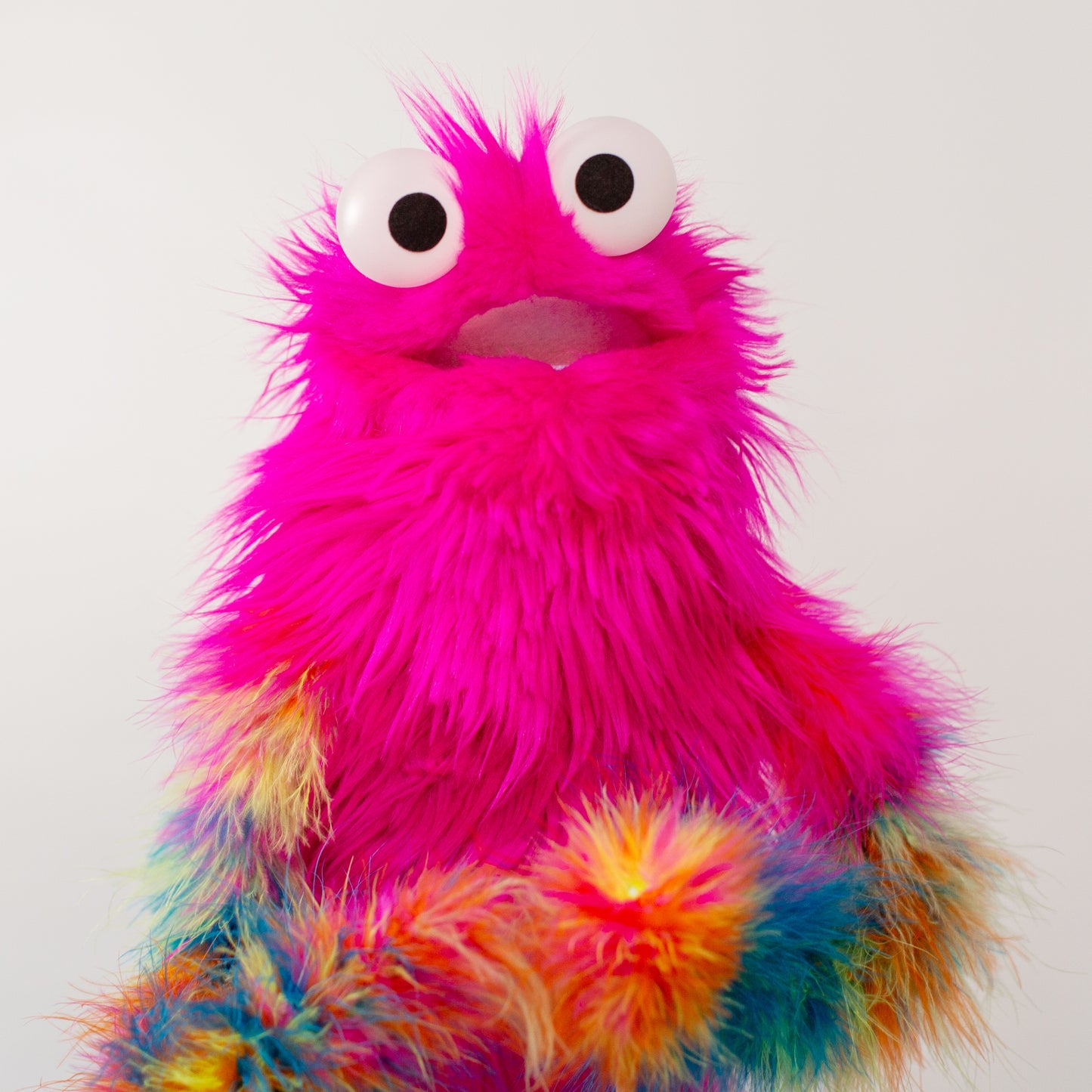 Just buy the puppet!!!! :D
First, I need to start off by saying Jessie is awesome :)
Second, the customer service with Ragmop & Goose is phenomenal!!! I initially had a technical issue on adoption day, and someone quickly helped me out via the Chat option on the website. Then, when I got my puppet, I had some issues with it and Jessie came to the rescue immediately! She was so patient and kind to deal with and went above and beyond to make things right.
Third, Filbert is frickin' adorable!!! I fell in love with the little guy on their TikTok channel and am so happy to have one to call me own now.
So if you are on the fence about buying a puppet, just go for it!!! They are so cute and so much fun to play with and you are supporting some awesome folks :)
Thank you for my Filbert!!!!
We love Filbert!
Playing with Filbert is something that sparks a lot of joy for me and my partner- I'm not sure if the pets "like" them but the dog will shake hands with Filbert and that's the cutest dang thing. Filbert is wonderfully crafted and fantastically fluffy
I cannot describe the joy I felt upon receiving Filbert! It took me back to when I was young and watching the muppets. They are so cute and the drawing of Filbert on the front of the box was so fun! I absolutely love the work you guys are doing and I hope you continue to bring joy through puppets for many years to come!
Cute
I love the puppets so much they make me happy
What a treasure!
I've spoken to Jessie since recieveing Filbert about how special they are to me, already! It is my first time with a "proper" hand puppet and I am enjoying it, so much! The quality is superb, the fun factor is through the roof! I highly recommend if you are looking into new hobbies, try a puppet! Jessie and Gus have created and continue to create such a unique array of personalities, so take your pick! Have FUN!